Convert Any PDF to Use With Google Slides, PowerPoint or Keynote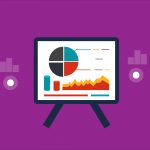 How do you convert a PDF into a PPT or presentation format? In this tutorial, we use Google Slides, Microsoft PowerPoint and Apple Keynote to explain how you can turn a PDF into a slideshow. We'll also explain how to insert a PDF into a slideshow.
The best way to digitally present information to an audience is with a slideshow. With a slideshow, you can full-screen a document on a projector and advance the pages forward with the click of a button. Google Slides, PowerPoint (.ppt), and Keynote (.key) are all examples of apps that can be used to create and present slideshows.
PDFs, on the other hand, are one of the best file formats to share information online. They're easy to compress and won't lose formatting settings between devices. In fact, PDFs can be a great way to share presentations between devices as they can be converted to and from PPT files.
There is one big differentiation, or limitation, between using a PDF vs a PPT, KEY or Google presentation file: PDFs are flat files that don't easily accommodate animations. So, if you want to dazzle your audience with animated text, GIFs or videos, you'll be better off converting your PDF into a PPT and add the animations (which is beyond the scope of this post).   
So how do you turn a PDF into a slideshow? PDF.Live offers PDF to PPT conversion features entirely online. In this article, we'll show you how you can do this.
Convert PDF to Powerpoint
Go to the PDF to PPT page and upload your PDF.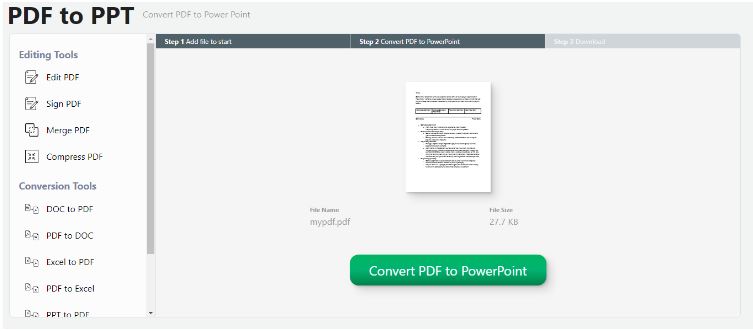 You can either drag and drop your file into the converter or select the file wherever it's located on your desktop.
Click Convert PDF to PowerPoint.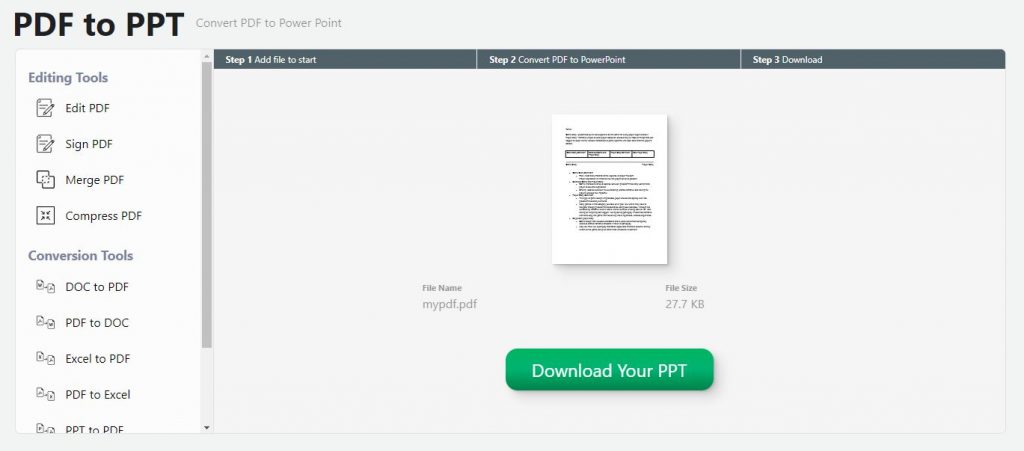 Once your PDF is converted to a PPT, select Download Your PPT.
Open your converted PDF on the slideshow editor of your choice.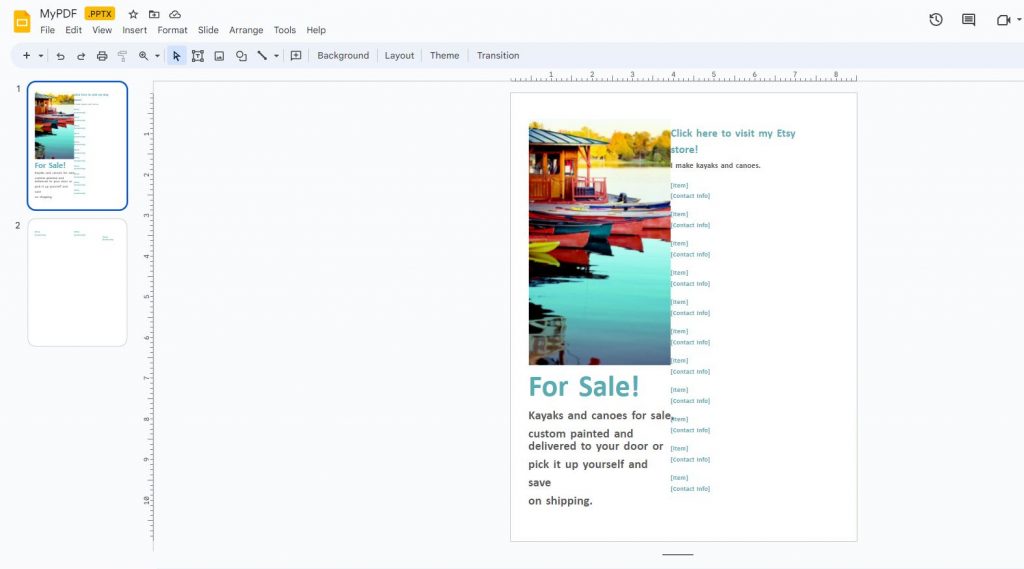 From here, you can open your converted PDF on Microsoft Powerpoint, Google Slides, or Keynote to test if your PDF was converted properly. Simply open the program and select the PPT file you downloaded from PDF.Live. If you're using Google Slides, you will need to upload the downloaded PPT to your Google Drive account.
From here, you can make further edits to it as you would any other PowerPoint. You can also test presenting the new slideshow to see how it will look when on the big screen. PDF.Live also offers a PPT to PDF converter, if you want to eventually turn your presentation back into a PDF. You can, for example, convert a PDF to a slideshow, make edits, and then convert it back into a PDF! PDF.Live has a lot of powerful tools you can utilize to make it as easy as possible to work with PDFs.
Insert a PDF Into a Slideshow
Are you looking for a way to insert a PDF into a slideshow? To insert a one-page PDF into a presentation, you'll need to convert the PDF into an image format, such as a JPEG. Then use Insert > Image > and select the JPEG file's location; this will also work with PNG and other image formats. Google Slides does not allow you to insert a PDF into a slideshow. You can insert images, movies and audio files, but not PDFs.