How to Email PDFs in Gmail, Outlook and More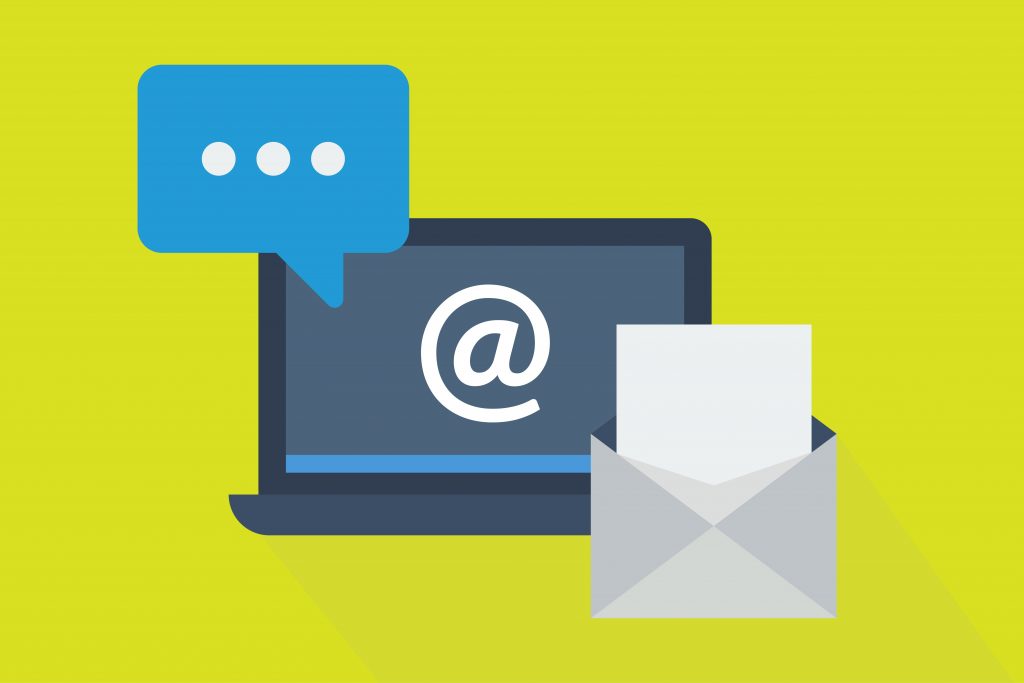 The PDF file format is one of the best ways to share documents over the internet because it preserves the formatting of your documents. But… How do you send and receive PDFs?
Email is still one of the best options for communicating over the internet. Email lets you organize incoming information by marking messages as important, archiving them, and more. Although the type of service we use may differ, all email platforms have the ability to attach files to outgoing emails.
When composing a message, you can look for the paperclip icon near the "send" button on an email. Clicking this paperclip will open a window that lets you browse your desktop for a file, like a PDF, that you want to attach to the email. Doing this will allow the recipient to download and view the PDF that you've attached. This is great for if you need to send out a single or couple of PDFs to someone.
But, what do you do when your file size is too large?
Tips for sending large PDFs through email
Most email services have an attachment file "size limit" that you can send using their service. Gmail, a common email service, has a 25MB attachment size limit. This means that all files attached to the email can't exceed the 25MB size limit. So, what do you do if you need to send out multiple PDFs that end up being larger than 25MB?
This is where file compression comes in handy. While we have a separate article discussing how file compression works in detail, this feature basically allows you to slightly reduce the file size without changing the file type. So a compressed PDF file is still a PDF.
If you need to make major changes to reduce the file size, read this tutorial on how to zip files on a Mac or Windows computer. That tutorial will also explain how to package up, or zip, multiple files with large sizes into a single compressed file. This zipped file will have a smaller file size, and it changes the file type to a .zip format. The person on the receiving end will have to unpackage, or unzip, the file to see the contents within. The unzipping process returns the files to their original formats.
Once you compress your PDF or zip your files, you can download it and attach it to your email. Make sure the person on the other end is familiar with uncompressing files! Most PCs and MACs have built in unzipping features. On a Windows PC, simply right click or command + click the zipped file and select "extract all" or "open" and you'll be able to see the PDFs inside the zipped file. On a Mac, double click, right click or Control + click the zip file to restore it.
How to Email One Page of a PDF
If you want to send out one page or a section of a PDF, you'll need to first extract that page(s) and save it as a separate PDF. While we explain how to do this in our extracting page / split PDF article, for now know that you can take a single page out of a PDF fairly easily.
Go to the PDF.live editor. Click and drag to open your PDF. From the Home tab, select the Print icon. In the Pages field, select the page number (in the example below, we extracted page 1. Select OK, then when the print dialog box appears, select Save as PDF in the Destination field. Name your page and choose a location. We recommend saving it to your desktop, since you're going to be emailing it; that way it's easy to find!
You can also open the PDF that you want to extract a page from in your internet browser of choice. You can do this by clicking and dragging the PDF into a new window on the browser that you're using to read this article.
Once the PDF is open, go to the options section on the top right of your browser, usually denoted with a few vertical dots or horizontal lines. Find the option that says Print. Follow the same steps, choosing Save as PDF, choosing Pages. You can enter a single page number or a range. Then, hit Save.
Once the page or pages are saved as a separate PDF, you can attach this new PDF to an email as you would with any other email.
Can You Embed a PDF in an Email?
Embedding PDFs in Gmail
Sometimes you want the PDF to be the first thing someone sees upon opening your email. This is particularly useful if you're sending out a mass invite to an event or an E-Christmas Card. What you're looking for is the Embed features, where Gmail will put your PDF in the text section of the email so it's visible without the person on the receiving end having to open up the document to view it.
The problem is, Gmail doesn't support PDF embedding. Fortunately, it does support picture embedding!
In order to embed your PDF, you'll need to convert it into a picture.This process generally works best if your PDF is one page so it's clearly visible in the email. This is why we recommend using this process for simple invitations to events.
You'll need to convert your PDF to an image file format. Fortunately, we have a post explaining exactly how to convert PDFs to JPEGs!
Once you convert your PDF to a JPEG, head over to Gmail and, instead of selecting the paperclip icon, select Insert Photo. This icon looks like a little picture frame with a couple of mountains. Upon selecting this, you'll be prompted to find the JPEG of your converted PDF.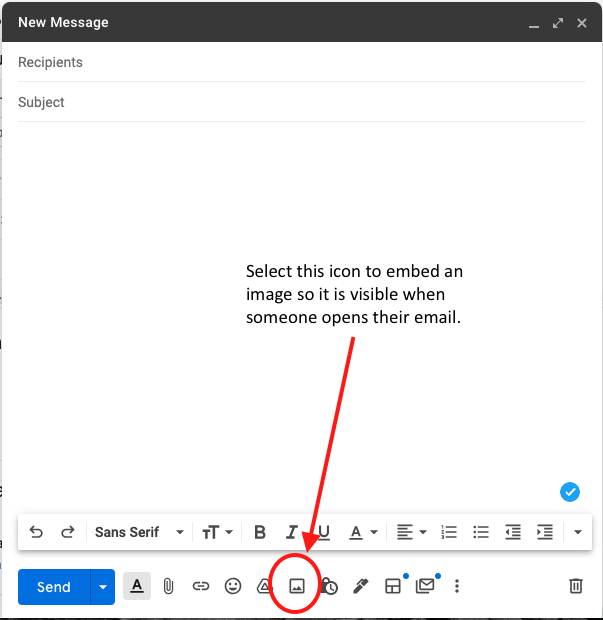 You can preview what the JPEG will look like when inserted into the body of the email and decide whether or not it's what you're looking for. Remember that you can always attach your PDF to the email – recipients will just have to download and open the PDF instead.
Embedding PDFs in Outlook
If you use Outlook as your email service, you have an option to insert a PDF in the body of text as an Object. Again, you won't get great results if you try to embed a multi-page PDF into an email, but this will work well for smaller PDFs.
To do this, first open a new email in Outlook and select Insert > Object in the Text group. Then, click Create from File and browse your computer to find the PDF that you'd like to embed. Select Open on the PDF you want to embed. Then, click Ok.
If the embedded PDF doesn't turn out quite how you wanted, you can always attach files to an email in Outlook as well. Outlook actually allows you to view PDFs from within their service, so you may not even need to embed your PDF!
Other Ways to Share PDFs Online
While email is a great way to send out PDFs for viewing, it's not always the best option available for your specific use case. Sometimes online cloud storage solutions can be the best for PDFs that you want people to be able to access and view. For more about this, check out our article on how to share PDFs.
If you've created a party or event announcement on Facebook, you can actually share your invitation PDF through Facebook Messenger. You'll notice that if you open Facebook Messenger and tap the + icon, you'll see that familiar paperclip icon. If you select this icon, you'll see that you can attach a PDF from your computer to a message and send it.
If you're currently on a smartphone, don't worry – you can still send PDFs with your device if they're downloaded and saved on your phone.
Send PDF from an iPhone
Locate the PDF that you want to download and touch and hold the file. Then, select Share. Choose an option from the ones available like AirDrop, Messages, or Mail. Then, select Send.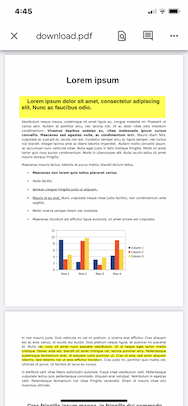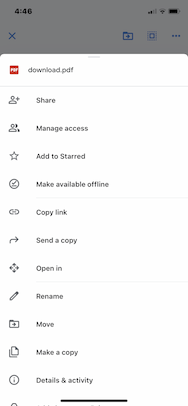 Send PDF from an Android
Open the PDF you want to share and, on the action bar near the top of the screen, select Share. Choose an option from the ones available, such as messenger or email. Then, tap Share once you've selected an option.