Resources » Working With PDFs (Basics) » 3 Ways to Add Pages to a PDF
How Can You Add a Page to an Existing PDF?
This tutorial explains how to add pages to a PDF. We cover three ways to do this, first using our online tool PDF.Live, then using a Windows-based PC, followed by using an Apple computer.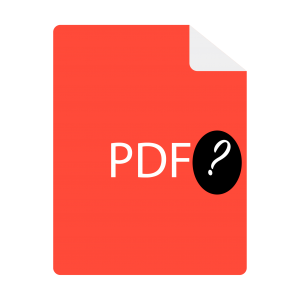 Why would you need to do this? Perhaps you want to add pages from one PDF to another, so you don't have to send a bunch of different PDFs over the web. An example is if you are applying for a job, and you want to merge your resume and application into a single PDF document. Or maybe you want to add blank pages to separate sections of a larger document. If you have the original file format (Word, PowerPoint for example), you can add and remove pages easily and then export the file as a single PDF. If you don't have the original .doc, .docx or .ppt, it's still quite easy to do using a PDF editor.
We'll show you three ways to merge and add pages to PDF files: Using (1) PDF.Live, (2) Adobe Acrobat on Windows, and (3) Preview on Apple computers.
Using PDF.Live to Add Pages to a PDF
In this section, we cover how to add pages from one PDF to another using the Merge feature on PDF.Live.
If you want to add specific pages from one PDF to another, and you need to extract them, we have an article on extracting pages from a PDF that will help you do this.
Once you have your PDFs, head over to PDF.Live's merge tool. PDF.Live's merge tool does not require any downloads and functions entirely in your web browser.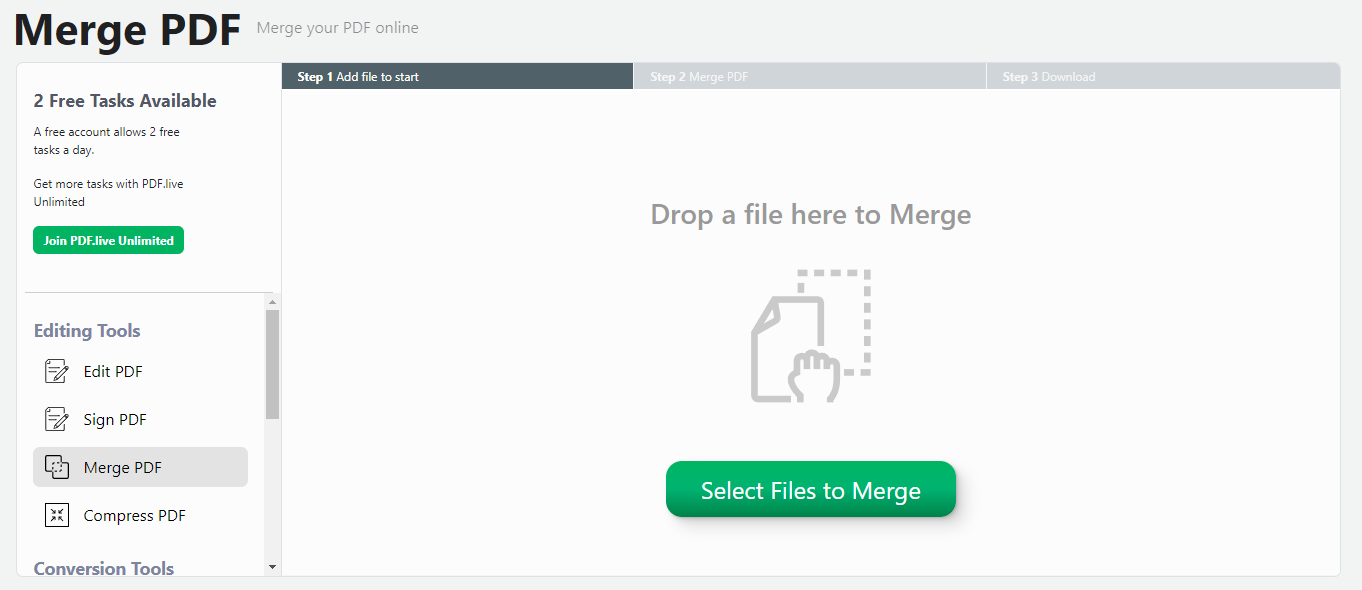 Drag and drop the PDFs that you want to merge into the tool. Note that the final page count of the document will be listed at the top of the merge tool. You can also select more than two PDFs if you have additional pages you'd like to add.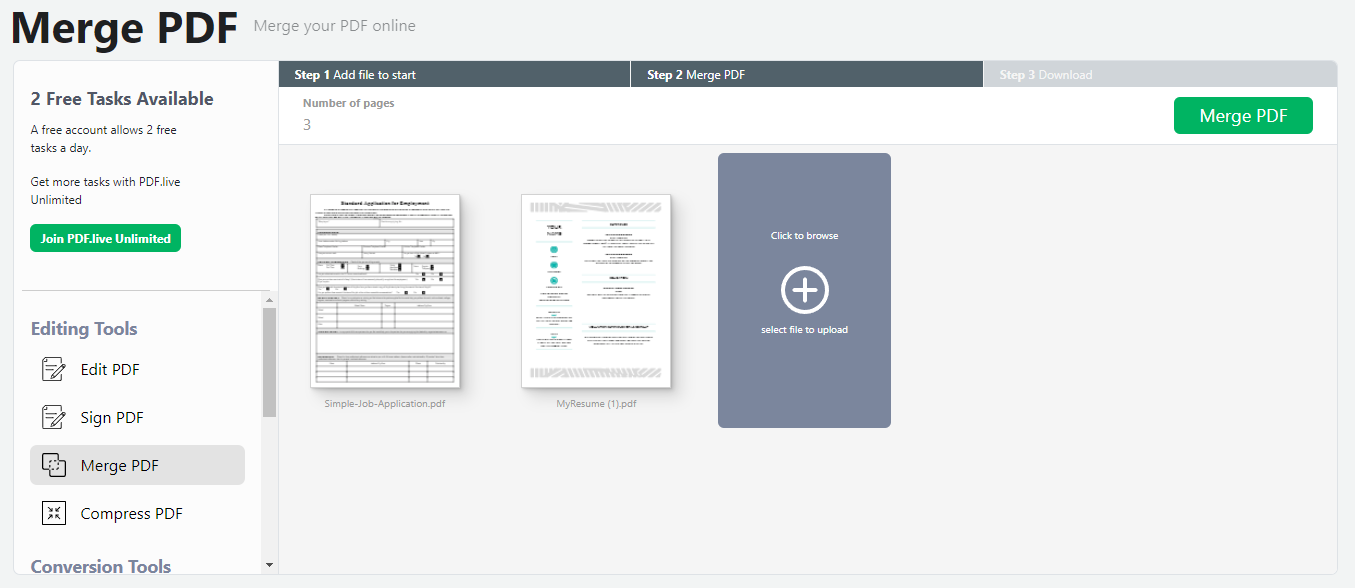 Once you're done, select Merge PDF. You will then be able to download or print your merged document!
Once this is done, if you are a PDF.Live subscriber, you can head over to our PDF Editor to rearrange the PDF's pages in the order you need them to be. Simply download the merged document and then drag and drop it in the editor.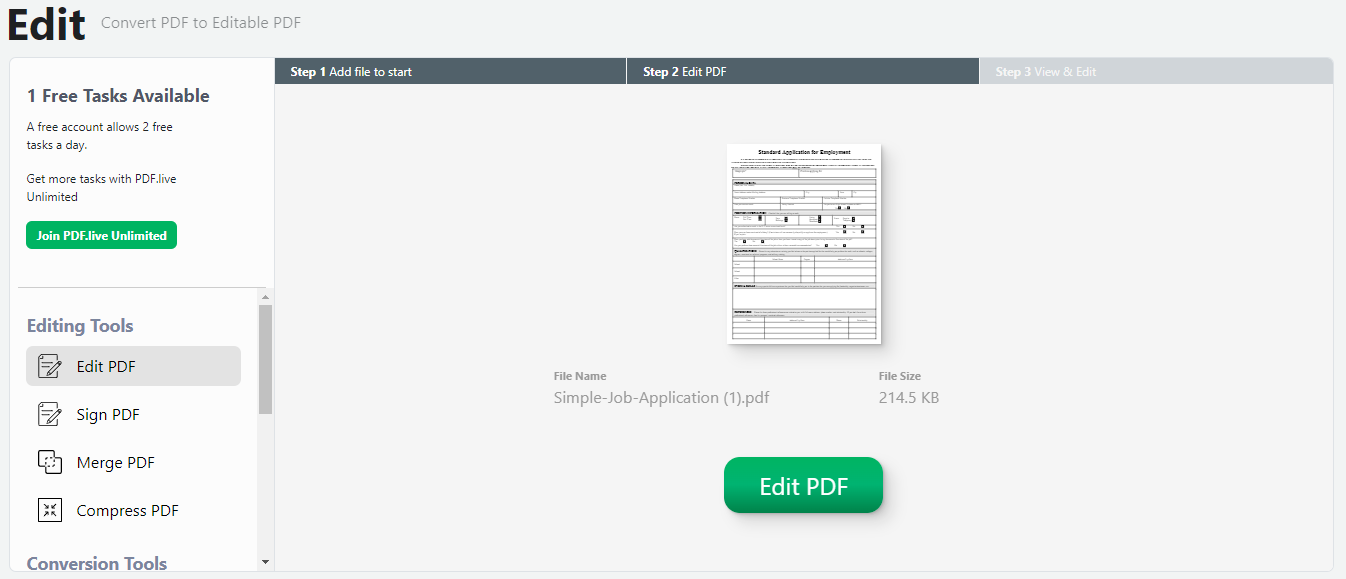 Open the editor and select the Pages tab. You will see small thumbnail previews of each page in your PDF.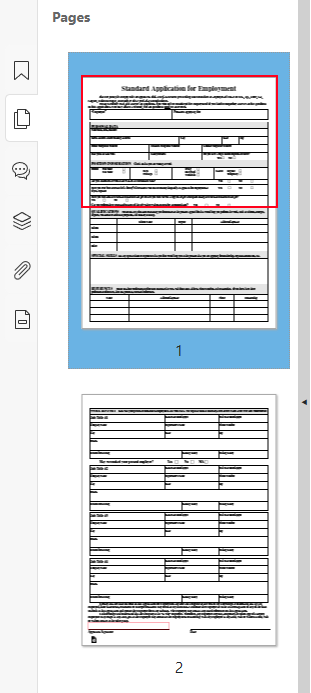 You can click and drag the pages to rearrange them in any order you'd like! Note: This is a premium feature. In the PDF editor, you can also right click a page in the pages tab for additional options. One of these options is Insert Blank Page. You can use this to directly add additional pages to a PDF document.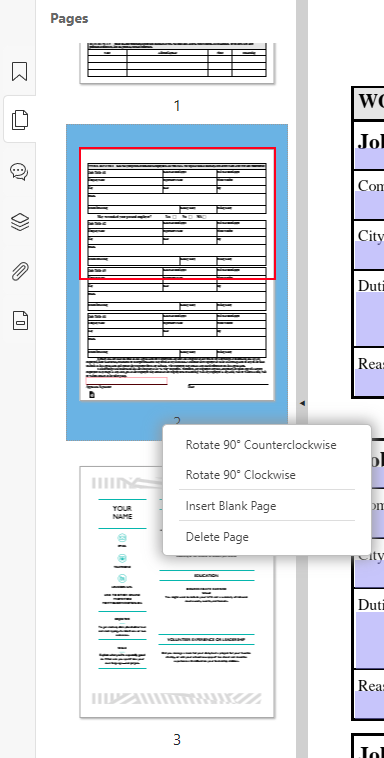 Adding Pages to a PDF in Windows
Windows does not come with a default application to merge PDFs. You will have to use an online tool like PDF.Live or a PDF editor such as Adobe Acrobat. To do this, open your PDF in Adobe Acrobat.
Find the Combine Files tool in the Tools menu.

Click Add Files and drag and drop the files you want to merge into the window.
Then, you can rearrange your pages as you see fit. Then click Combine.
You can also insert new blank pages by selecting Organize Pages and Insert on the right hand side of the program.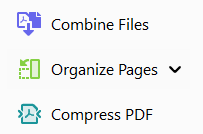 Note: Adobe Acrobat requires a paid subscription to perform these actions.
Adding Pages to a PDF in Apple Preview
Apple's Mac computers have a PDF reader and editor installed in their systems by default called Preview. You can add new blank pages and merge documents with this program.
Open one document by double clicking (Apple defaults to Preview). In the lower left corner, you'll see a + sign where you can insert another PDF file, insert a blank page, or import a page from an iPad or iPhone. For our purposes, we're going to select another PDF on our desktop called "Myresume" and insert it into the job application.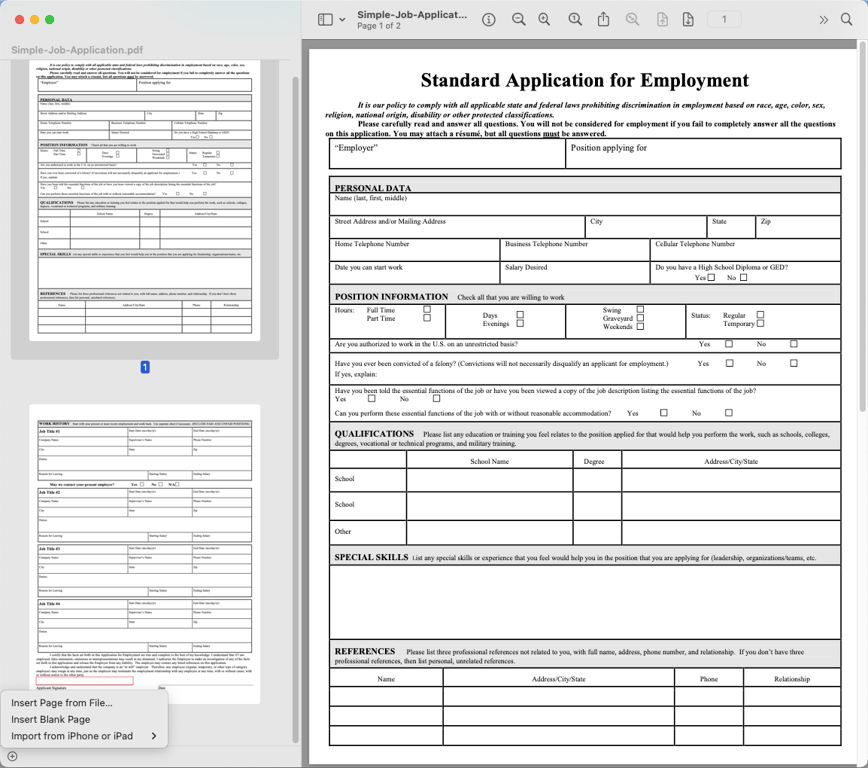 Select the second document that you want to add.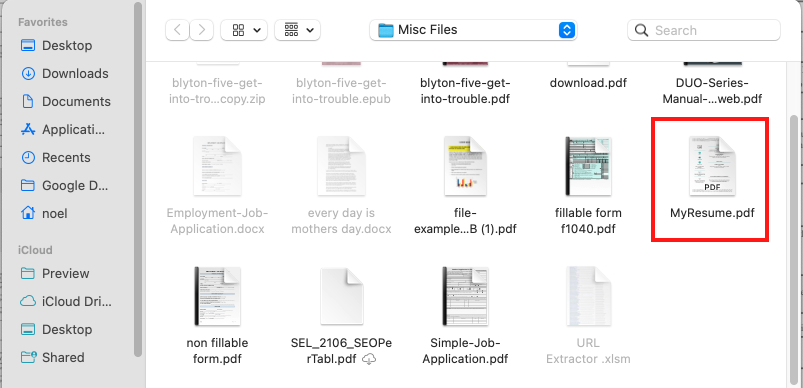 Use the thumbnail view on the left to click and drag to rearrange to pages.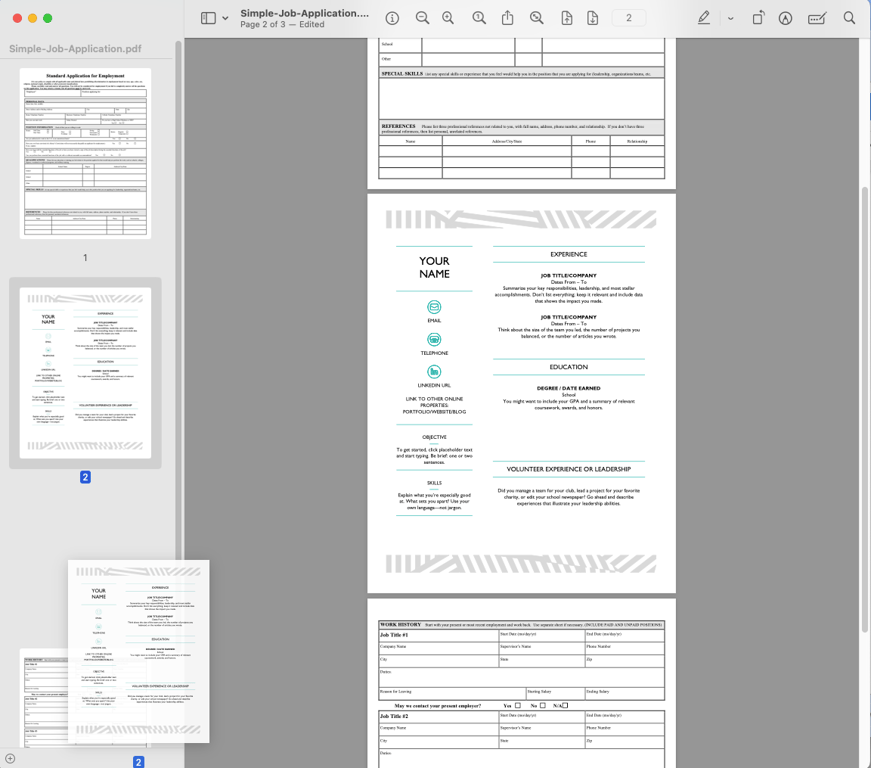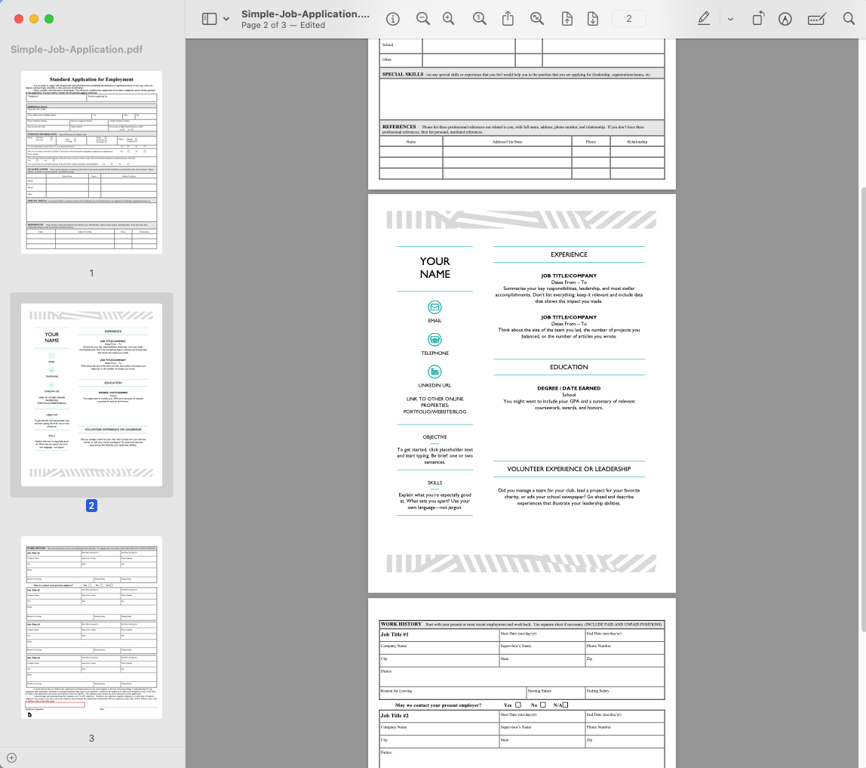 Troubleshooting: Unable to Add Pages
If you are unable to use any of the above methods to add pages to a PDF, it's likely that the originator of the PDF file has locked it. If a PDF has been locked or protected, it's likely that you won't be able to make changes to it. These are called owner-level permissions, and they are used when a content creator wants to copyright or protect their content from being altered without permission. If you know the originator of the document, you may be able to reach out and ask for the password to remove the protections. Otherwise, you won't be able to alter someone else's work.
What About Removing or Deleting Pages?
You might run into the same issues if you're trying to remove pages from a protected PDF. For our tutorial on extracting, deleting or removing pages from a PDF, see How to Delete Part or All of a PDF.