How Can I Edit a PDF Document Online for Free?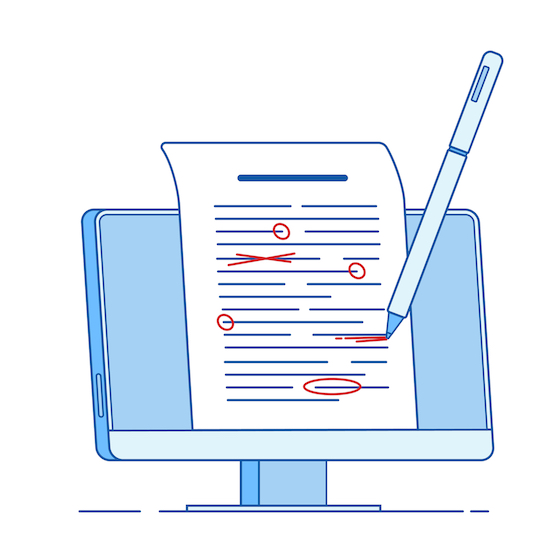 This post will help you answer:
How do I edit a PDF file or document for free online?
How do you edit or add text to a PDF for free?
The PDF is a very strong file format for saving and sharing documents online. The PDF, or portable document format, preserves the format of the page and can be viewed on any modern internet browser. PDFs are great for contracts, Christmas cards, resumes, e-publications, and just about any other document that needs to be shared online.
If you've received a PDF, however, you probably know that it's not easy to add text to it while still preserving the original format. This is especially annoying if you need to sign a PDF or make changes to the PDF. On top of this, your document editor of choice may prompt you to convert the PDF to an "editable document" that ruins the formatting settings.
Fortunately, PDF.live provides a PDF editing service with no special software required, entirely online.
How to Modify a PDF Online for Free
To modify or edit a PDF online, all you need is an internet connection. You can head to PDF.live and click the button that says Edit or Sign PDF to see the options for altering your PDF. You can choose Edit PDF to add or remove lines of text in the document. Or, you can select Sign PDF to put your signature in the document. You can also Compress or Merge PDFs in case you need help sending the edited documents.
Regardless of what you need to do, PDF.live allows you to try our editor for free. Upon opening the PDF.live editor tool, you drag and drop the PDF you'd like to make modifications to and get started.

If you enjoy our PDF editor and want to edit as many documents as you'd like every day, you can join PDF.live Unlimited. With PDF.live Unlimited, you'll have access to unlimited PDF edits, unlimited PDF conversions, editing greater PDF file sizes, and more! For more information, consider visiting our pricing page.
Editing Text of a PDF
If you want to edit the text of a PDF, you can easily do this in PDF.live's editor tool. Drag and drop your PDF into the tool and click Edit PDF to open the PDF in the editor.

Once in the editor tool, you'll need to select the Edit tab on the top toolbar.

Once you open the edit tab, select Edit Text & image & shapes. Then, select the text in the PDF that you'd like to edit.
Note: When editing text in a PDF, the formatting may be lost. If you need to make more extensive edits, like adding additional paragraphs or sections, you should consider opening the PDF in a document editor (convert from PDF to Word, for example) and re-making the document entirely. Then, you can convert it from Word back to a PDF.

Once you select the text you want to edit, you can re-type new text, change the size of the text, or any other minor edits that you need to do! You'll only be able to edit the text highlighted with the blue outline.
Tips for inserting text in a PDF
If you want to insert new lines of text, you'll need to select Add Text in the Edit toolbar.

Then, select the section of the PDF that you want to add the text to. You will need to alter the font style and size to match the original document, as the Add Text feature does not automatically format your text.
Then, type the new line that you'd like to add.
Tips for hiding text and images on a PDF
In case there are certain text or images that you want to hide or "black out" before you print your PDF, PDF.live allows you to add shapes to the PDF in the form of a black box (or whatever color you prefer) that acts as a censor bar. While this is useful if you just need to quickly remove some information, this feature may not be accepted on an official legal document, and it is not the same as redacting text or images from a document.
Redacting content means completely removing any trace of it from a document. The only way to redact content is to alter the original file. For example, if a document contains someone's Social Security number, you should delete it from the original, rather than putting a black box to hide it on a PDF. Simply covering personal information with black (or colored) boxes does not protect the personal information, as those boxes can be removed to reveal what they're covering.
Still, there may be use cases where you just need to cover content on a PDF, such as hiding content before you print it. This you can do on PDF.live's editor by going to the Edit tab and select Add Shapes. Then, select Rectangle.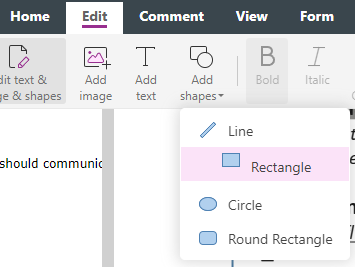 Select the area you want to censor and click and drag to outline the text or image with a rectangle.
Then, right-click the rectangle outline and select Properties. In the properties settings, click Fill Color and select Black (or whatever color you prefer). Make sure opacity is set to 100%, to hide the text or image.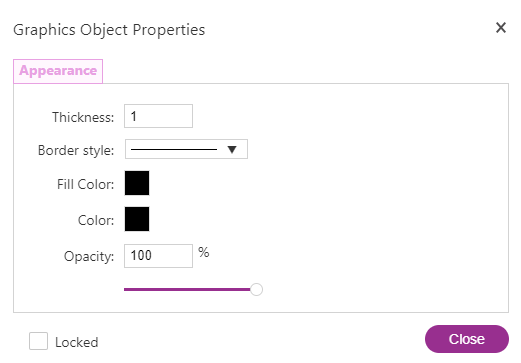 Once you've done this, you can close the Properties settings and see that your text is blacked out.
Other ways to alter a PDF document
PDF.live has a lot of editing tools that you can get creative with. Here's a brief overview of some of the many tools that are at your disposal:
Add image: In the Edit section, you can add images from your computer anywhere you'd like on your PDF. If you have a chart or extra picture you forgot to add to your family vacation collage, this is the perfect tool.

Highlight: In case you want to draw notice to specific lines of text, in the comment section, you can select Highlight in the section with other text editing options. Explore around these features to see which one is best for your specific need.

Stamp: If you need to put a stamp on an official document, PDF.live offers a variety of default stamps that you can put anywhere in your document.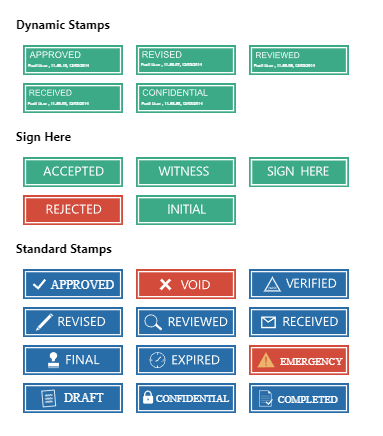 Add signature: Although we cover this more in our PDF document signing guide, you can sign a PDF in the Protect tab and selecting PDF Sign. From there, you can follow the steps to create and paste your own signature throughout the document.

Change PDF background color: If you want to alter the overall look of your PDF, you can go to the home tab and select Change color to change the background color of your PDF. A dark gray or black is perfect for if you want to make the document a little easier to view.
Download Your Edited PDF
Once you have completed your edits, it's time to download the edited version. PDF.live does not store your files online, so if you close the window before you've downloaded your edited PDF, you could lose your hard work!
From the Home tab in PDF.live's editor, select Download. The download process should automatically begin. If you can't find your PDF, look on your desktop or your computer's Documents or Downloads folders.
---
Illustration from Microvone / Dreamstime 145757425