Resources » Working With PDFs (Advanced) » PDF Readers for Windows PCs (Free and Paid)
What's the Best Free PDF Reader for Windows?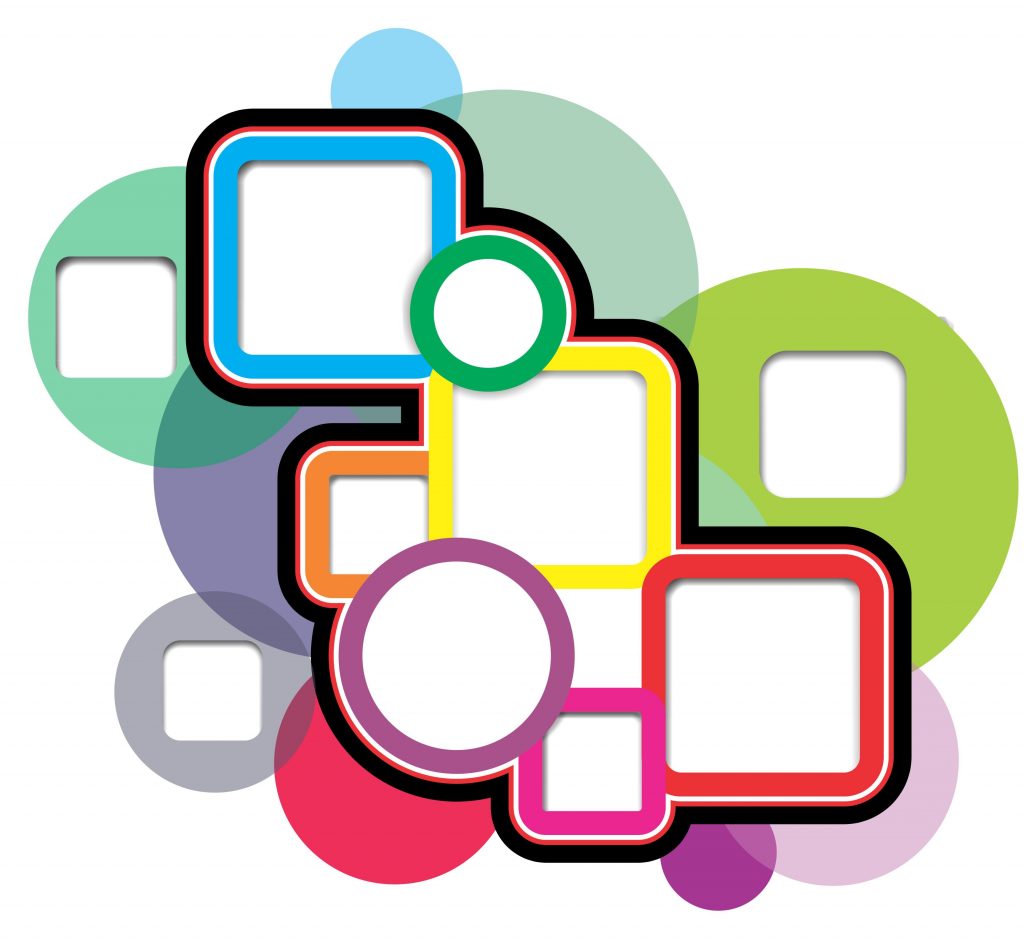 This post explains what "PDF reader" means, and it helps Windows 7, 8, 9, 10, and 11 users find the best free and/or paid PDF readers for laptops or desktops. Some Windows computers come with PDF readers installed, but that doesn't mean you have to use their software. There are a number of free and low-cost options available for reading PDFs.
First, let's answer: What do we mean when we say "PDF reader"?
PDF reader software is essential for viewing PDFs. A file format like the PDF is just a collection of code that instructs programs how to build and display a document. PDF readers do just that — they display PDFs so you can read them.
You may notice that if you don't have a default program selected to open a PDF, you won't be able to open and view it. If you try to open a PDF with Microsoft Word, it will try to convert the document to a .DOC and likely ruin the formatting settings, which results in a garbled mess on your screen.
With a PDF reader, you'll be able to select that program as your default option when opening a PDF.
PDF readers don't necessarily enable you to alter and edit a PDF document. However, all PDF editors will allow you to open and read a PDF. If you just need software to open and read a PDF, there are a lot of great options available.
What Is the Best Free PDF Reader for Windows PC?
The "best" option depends on your preference. You can actually open and read PDFs online without having to download a PDF reader for a Windows PC. First, we'll look at web-based options, meaning no software downloads required; then, we'll look at a free downloadable program from the inventor of the PDF file format.
Any Internet Browser
If you just need to open and view a PDF, you may be surprised to hear that your default internet browser has this capability. To test it, simply open File Explorer and navigate to a PDF saved on your computer. Click and drag the file from File Explorer to a window where your internet browser is currently open.

You will see that the PDF then opens as a new tab in your browser. Instead of a website URL in the address bar, you will instead see the file location of the PDF.

You can then select your browser of choice as the default program for opening any and all future PDFs. Right click on a PDF and select "Open with" to see the options available.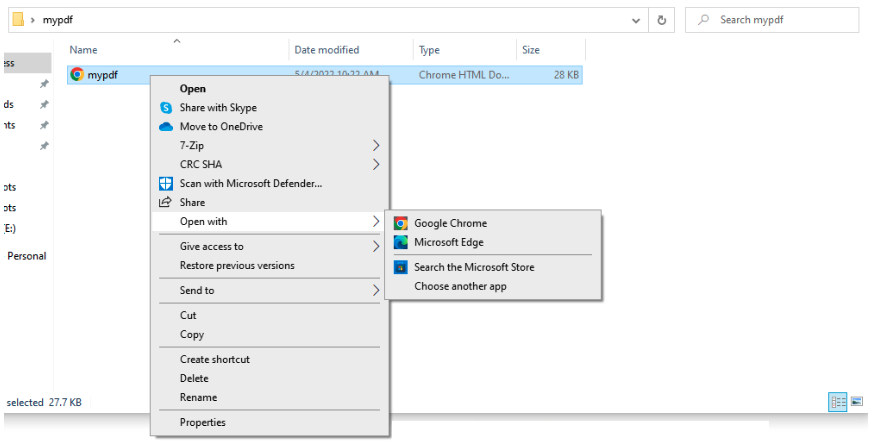 Then, once you're happy with the option you've selected, right click your PDF again and this time, select Properties.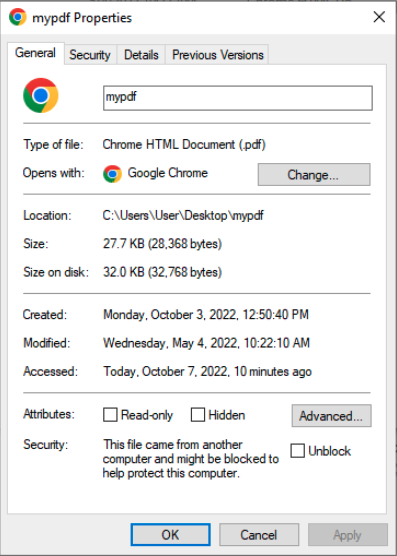 In the PDF properties settings, you'll see a section that says "Opens with". Here, you can select the default program you'd like to view your PDF with. If you're happy with a PDF Reader that doesn't have editing tools, you can just select your default browser.
Google Drive
If you want to read and share PDFs online, Google Drive can be very helpful for storing and opening any type of document. If you have a Google or Gmail account, you already have access to Google Drive. Simply drag and drop your PDF into Google Drive and you'll be able to open and view it.

You will also see the option to open the PDF with Google Docs. This allows you to edit the PDF, but certain formatting settings will likely be lost, as this converts the PDF to a .DOC file.
You will also see the option to open the PDF with Google Docs. This allows you to edit the PDF, but certain formatting settings will likely be lost, as this converts the PDF to a .DOC file.
Adobe Acrobat Reader DC
Adobe developed the PDF, so it'll come as no surprise that they offer PDF reader and editor services. However, their most popular PDF viewer and editor, Adobe Acrobat, is a paid monthly subscription. Instead, you can use Adobe Acrobat Reader DC, which allows you to view and manipulate files, to a far lesser degree.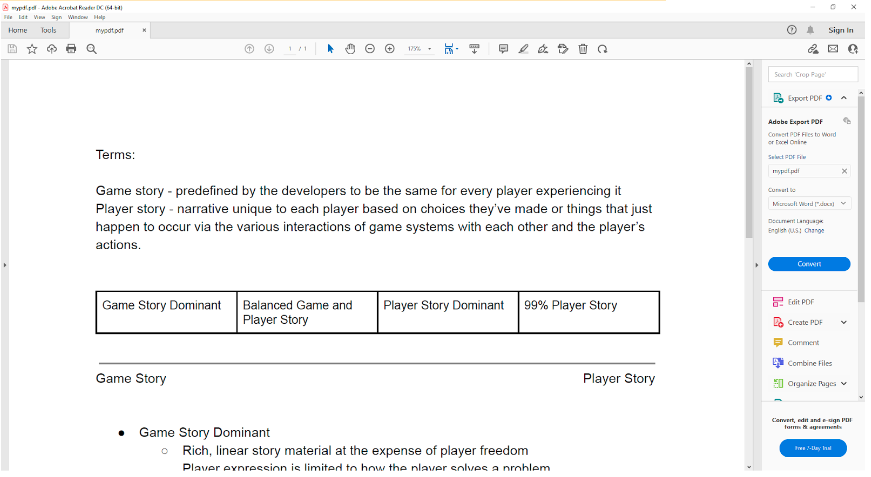 Acrobat Reader DC has some useful features such as searching certain words in the document and highlighting text. This can be useful if you're reading an E-Book or textbook online and want to make notes.

Beyond this, like editing the text or images in a document, you will need to pay for Adobe Acrobat.
PDF Editing
PDF.Live offers PDF editing services online with no extra software required. You can edit, sign, compress, and merge PDFs as well as convert them to and from other file formats. PDF.Live also allows you to comment, strike out text, and perform other editing features. Free accounts get limited daily tasks in the PDF editor.To learn more about editing PDF documents, you can read our guide on how to edit a PDF online.